Google AI Search Update
Google Generative Search Experiences (GSE) and Google Perspectives
This article was formerly a presentation from the May Hawke's Bay Digital Marketing Meetup
What is the latest Google Search update?
Google I/O is the annual Google Developer conference that is designed to bring developers across the globe together. At latest Google I/O event core updates were announced to Google Search including the integration of A.I.into the core Google Search called Google Generative Search Experiences (Google SGE) as well as the launch of the new Google Perspectives.
Some folks subscribed to the Google Search Labs waiting list have been granted early access to Google Generative Search Experiences (we'll call this Google GSE from now on), which is probably the single most important search update for a very long time!

If you haven't already signed up to the Google Labs Search waiting list – we strongly recommend doing so before you do anything else!
We're a Hawke's Bay SEO agency these are our findings – it's very early days, but as the single most important update to search in a very long time – it's pretty exciting, and it's important to take a stance on what this might mean for search.
What has been announced?
Google announced the launch of the Google Search Generative Experience (SGE) to people on the Search Labs wait list. Google SGE adds generative AI capabilities to Google Search results right at the top of the page – the new SGE Results occupy some of the most expensive real-estate since the "I feel lucky" button.
The key integrations include:
Google now generates AI Powered overviews into the questions that you're asking Google
Google provides code tips directly into search (great news for developers, bad news for Stack Exchange).
Directly add SERPS to Google Sheets – no need to copy and paste.
Summary of Key Integrations:
Providing concise results directly into the search results is definitely more convenient than using a separate engine like ChatGPT – we did find the responses very slow though.
What does the new update look like?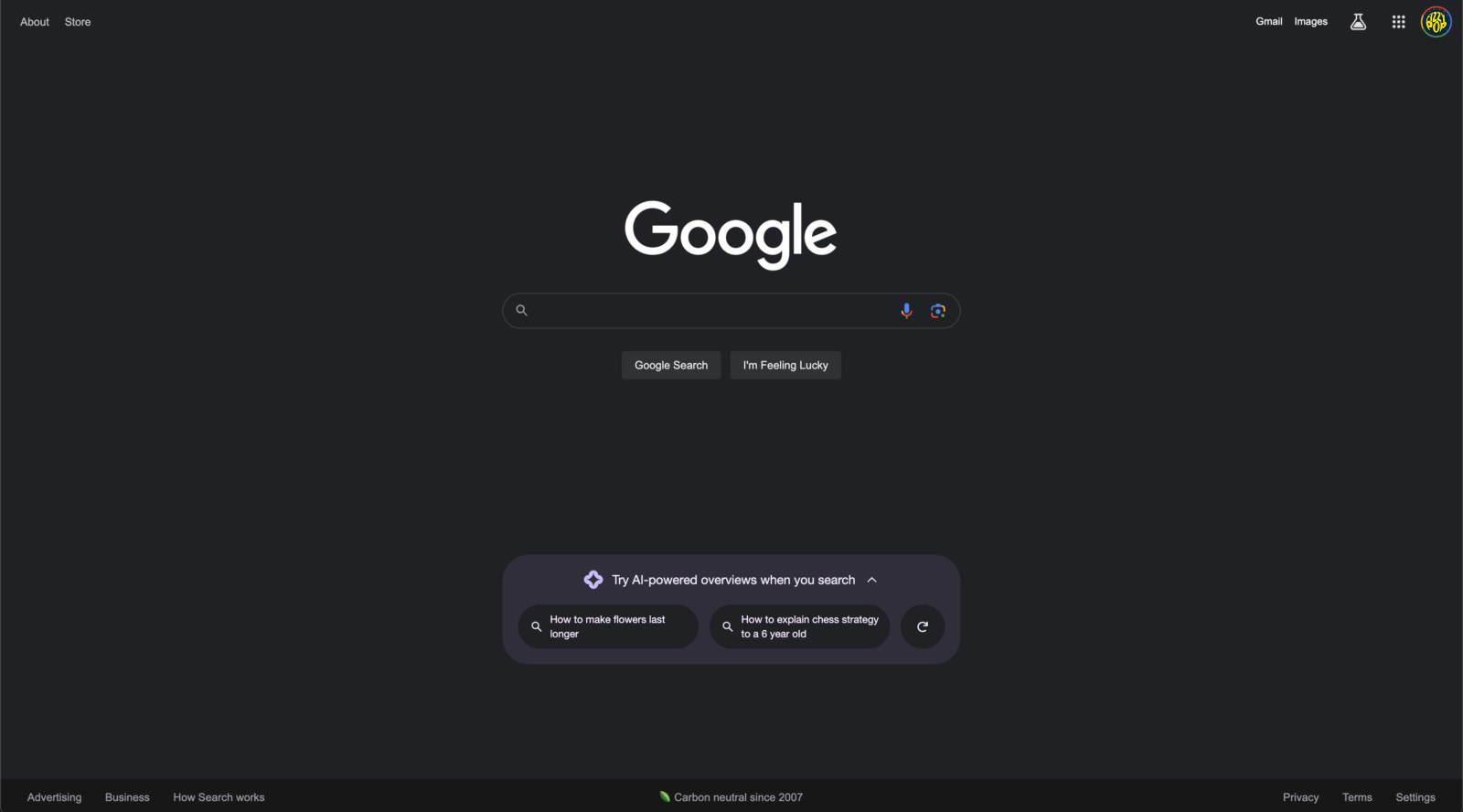 Above the fold – Google looks the same, below the fold is a very different story. The new Try AI-Powered overviews when you search is prominent and encourages use to try some pre-populated search queries.
On mobile the experience is very different – the new button called Converse appears in the top right hand corner as an option that can be tapped to begin conversant AI search with Google.
Trialling some queries with Google's Search Generative Experience
We started with a simple question: What is Google Bard?
Google's SGE offered a comprehensive answer, pulling from six distinct sources. Interestingly, five out of the six were from publishers, with only one from an official Google Help page.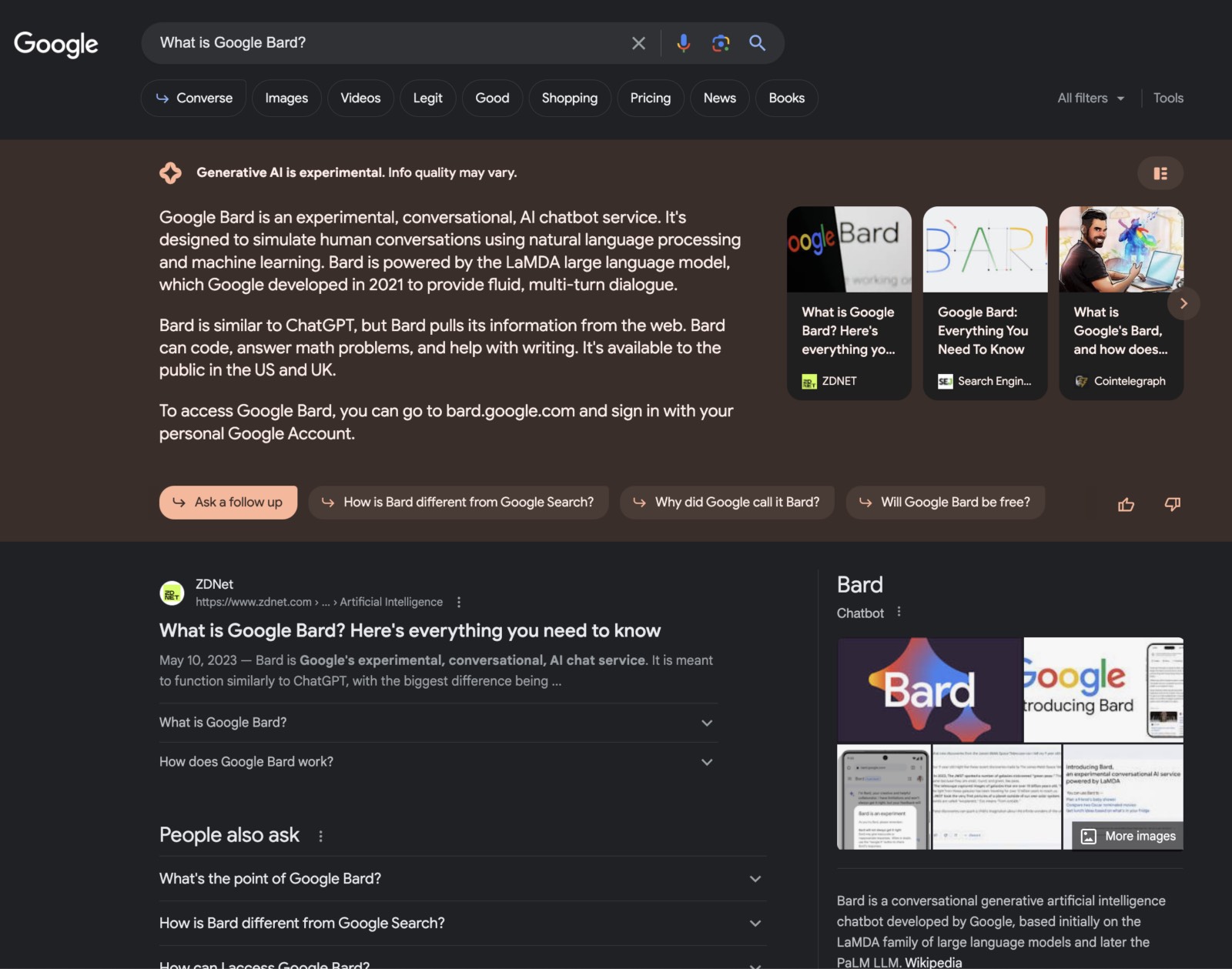 You can see which sources are used to craft the summary by toggling the viewing option at the top right of the AI result.
What's most interesting about the new AI powered Google Search results is the sources that are being referenced to produce the search results. Despite the search query referencing a Google product the 5 of the 6 referenced sources are from publishers, rather than Google.
It's tempting to suggest that this is Google downplaying their own significance which is a fair suggestion. Google have been accused of self referencing themselves and promoting their own products again and again and again.
I don't think that this is quite what's happening in this instance – it feels heavily biased towards publishers opposed to Google's own resources, as we'll find out in the updated to the Google Shopping Ads section, I think the reliance on credible 3rd party sources is inline with Google policy on E-A-T-T and has been baked into the AI update from the outset.
Below the AI response, the standard Google search results appear, complete with organic search results, 'People also ask', and a knowledge panel. However, it's worth noting that the 'Add to Sheets' feature, accessible through Search Labs, only applies to organic search results, not the AI-powered answer.
In the Google app with SGE, we observed a variation of the generative AI response, followed by the knowledge panel, 'People also ask', and organic search results. Notably, the sources chosen by SGE don't always align with the top organic search results, offering an additional perspective to our SEO analysis.
Google SGE – Google AI Updates Shopping and Reviews
Google shopping results using the new Google AI powered results is a very different experience. When searching for The best 4K camcorder under $500 the Google Shopping results gives us areas to consider, such as video quality, image quality and design & accessories. It then lists recommended cameras, what is really interesting is that the layout is now very different to the previous Google shopping experience.
Google AI generated descriptions
What's incredibly interesting is that the product descriptions are now completely AI generated. This all appears higher than the organic search listings.
If we conduct a more specific search – such as looking at the new Apple iPhone Pro Max phone. Then Google's generative AI produces a full list of product features. If you look at the below screenshot you can see that all the information is laid out as features, there's no established benefit to any of the listed features – for instance the generated copy suggests that It (Apple iPhone 14 Pro Max) also has a 6.7-inch WUXGA+ Super Retina XDR OLED Display with a 120Hz ProMotion refresh rate…, while the specifications are interesting Apple goes into detail to convey that the ProMotion technology intelligently ramps up refresh rates when you need exceptional graphics performance. And ramps down to save power when you don't. Google disregards the benefits of product features.
Google Generative Search Experience and Sponsored Ads
This one is quite important to us as we're a Google Partner Agency and a very accomplished Paid Search Agency. The first thing to notice is that the Paid Search results are now significantly further down the page, indicating that the proportion of clicks that paid search ads achieve is going to be lower than before (we forecast this at ~ 22.2% of search traffic currently) and that the number of zero click searches will continue to climb.
A cursory search on a very competitive term like link building results in a huge generative AI banner occupying the majority of the screen.
This is a huge departure from the normal search engine results page which would normally show us the standard knowledge panel, several sponsored results from Google advertisers, followed by a featured snippet, people also ask, and organic search results.
It's still early days in terms of the Google Generative Search Experience results – the amount of lost revenue from removing these sponsored listings has the potential to be huge. The cost of having a poorer AI experience that Bing is significantly greater.
What does Google Generative Search Experiences mean for advertisers?
Our initial view is that Google Search Generated Experience appears to favour publisher results over brands, linking through to news sources for information over the brand themselves, most notably this includes information pertaining to Google and Apple, arguably two of the most credible and recognisable global brands.
If some of the most advanced, credible and equitable brands cannot be referenced as a legitimate source then there is the possibility that an awful lot of knowledge ownership and top of funnel SEO optimisation for terms that brands have conducted could be construed as being wasted, that's not a conclusion that we've reached – from our experience every seismic shift in Googles Algorithm, every paradigm usually benefits those that have been optimising their site experience in good faith, conducting good SEO and providing value for their audiences, and providing a good user experience.
What is Google Perspectives?
As a nice counter to Google Search with AI, Google announced the launch of Google Perspectives – it's designed to humanise search – pulling information from social media, forums (like Reddit and Stack Exchange) and other sources to provide humanised responses
Google Perspectives is interesting – not only are big players like Reddit included – Google Perspectives proposes including sources such as personal blogs, social media results as well as forums or User Generated Content sites.
We've suspected that social media is a ranking factor for a while – there's almost certainly a correlation between profile views on Instagram and rankings in the SERPs – this could of course be a directly proportional relationship between the URL in the profile page as well as profile search traffic; the confirmation of Google Perspectives is the first time that Google has publicly confirmed the relationship between the SERPs and social media.
The Google GSE & Perspectives – what does it all mean?
Google's Search Generated Experience (SGE) can be considered a more convenient version of OpenAI's ChatGPT. The idea behind this is simple yet transformative: by incorporating AI-generated overviews directly into search results, Google aims to provide concise, relevant answers to users' questions without the need to navigate away from the search page. This could be seen as a direct competitor to ChatGPT and similar AI-powered services. As a result, one might argue that Google is claiming a larger share of the digital information space, potentially at the expense of other AI-based service providers such as ChatGPT.
One potential downside of this for these providers is that they might experience a drop in traffic. If users can find the answers they need directly in Google's search results, they may have less need to visit other sites. However, it's worth noting that this doesn't necessarily spell the end for AI models like ChatGPT. Their potential uses extend beyond simple information retrieval, and they can still provide value in areas that Google's SGE doesn't cover.
Another interesting aspect is the new Google Perspectives feature. This seems to align with Google's Helpful Content Update and suggests that, for the first time, Google is considering social media as a ranking factor for SEO. This is a significant development, as it indicates that Google is starting to value the social proof and community engagement that comes with social media. It could mean that businesses and SEO agencies need to place even more emphasis on their social media strategies, in addition to traditional SEO tactics.
So, is Google's SGE a game changer? It certainly has the potential to be. By integrating AI-powered overviews into search results, Google is changing the way users find and consume information. This could lead to major shifts in SEO strategies and the way businesses think about their online presence. However, as with any new technology, it's likely that we'll see its true impact only after it's been in use for some time.